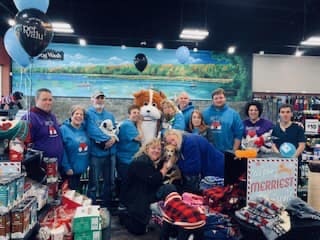 Looking for volunteer opportunities? Well, you've come to the right place. Happy Life is always looking for new volunteers. Whether you're looking for community service for school or other organizations or looking to find a community of like-minded people; there's a spot for you in the Happy Life Family! We are always looking for help at our office in Pawling, For our various adoption events throughout Westchester, Putnam, Fairfield, and Dutchess counties and everywhere in between!
We have many different ways to volunteer and help. We are always in need of Fosters. Fosters are the backbone of our organization. Fosters help out by taking in a pup and helping socialize them. Find out more about our foster program and application here!
Can't Foster? That's OK! Come and join us at one of our adoption events! We always need help setting up and breaking down the events. Come take care of the animals during their time at the event, by cleaning up after them, and giving them water, food, and bathroom breaks. We are always looking for "adoption coordinators" to come train with our current adoption coordinators and learn how to make the best fits for families! Adoption events usually take place at the PetSmart in Mohegan lake and Poughkeepsie!
We have an office in Pawling and could use help there. Help take care of the pups that don't have a foster. Help with photography/social media, give baths, among many other things!
Want to volunteer remotely? Come join us and learn about processing adoption applications! we always need people to call references whether personal or vet references! The application team is always happy to take in new members and train them!
No matter how you want to help we are happy to work with you! Please fill out the form below and then come to one of our upcoming adoption events to meet the team!